Going on vacation is such a treat. I was incredibly blessed to be able to go back home to the Ozarks for a week to see my family, but now it's back to the grind. 2:00am alarms and 6 hours of airporting is fine once you're used to it. You develop a sort of numbness to the chaos. However, I got rather spoiled at waking up from sunshine on my face, drinking coffee and eating cinnamon rolls and generally lounging around all morning. That way is better.
Right now I am in Salt Lake City, heading toward Montana.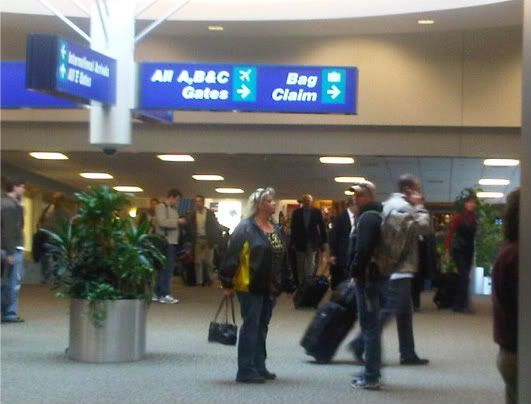 Normally I try to keep Work Angie and Home Angie as separate as possible, but this morning I needed a little calming effect so I brought a craft with me. My mom taught me how to crochet when I was young but I had forgotten. I took it up again this past week (thanks, Freda) and it makes me super happy. I find the motions very soothing.
So there I was, on the plane in first class, in a business suit, crocheting a retro headband (to fulfill one of my other personalities) when the flight attendant stopped to tell me she liked the color of yarn I was using. Now, because I'm not a proficient crocheter yet, I have to count out the stitches or else I have more or less than I started out with. I got all confused when she spoke to me mid-stitch so instead of saying "thank you" I said "four." I
avoided eye contact with her after that.