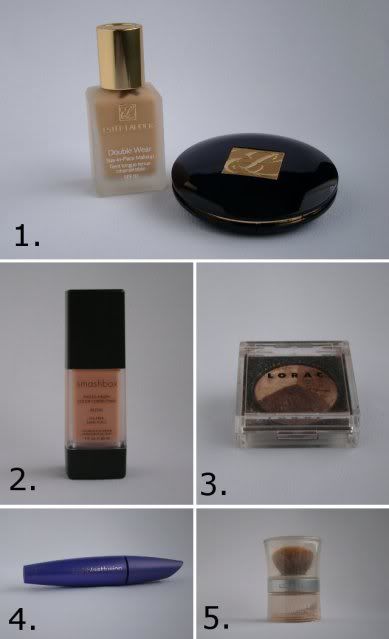 I can't say I'm a makeup expert, but I do know a lot of makeup products. If it exists there is a really good chance that I have tried it. I'm a girl that hates to spend money unless I truly love what I'm buying. Good makeup is very expensive so I have spent years trying to find items I can stomach spending a small fortune on. Here are a few of my favorites:
1. Foundation and Powder - Estee Lauder Double Wear
(I wear Ecru) I will admit these are pricey (about $35 each), but this stuff stays on. I usually put makeup on around 3am to make my early flights, and don't get off work until 7pm. I need makeup that can hang that long and this does. The only downside is that it is so good, it takes several washes to get it all off.
2. Primer - Smashbox Photo Finish
Worth its weight in gold, this primer evens out skin tones then makes your makeup glide on as smooth as silk. At $38 it kills me when I have to fork out the money to stock up, but I won't go without it.
3. Eyeshadow - LORAC in Superstar
Cheap eye shadows are a waste of money. I have had this neutral trio for about 6 months and I wear it all the time. At $25 it is quite a bit more than something from over-the-counter type brands, but I promise it goes on smoother and lasts longer. I have it in several colors but the Superstar is by far my favorite.
4. Mascara - Covergirl Lashblast Fusion
Here is where I drop all the expensive brands. There is no mascara better than this in my book.
5. Mineral Foundation - L'Oreal True Match Naturale
No, I don't wear two kinds of foundations, but sometimes I'm in a hurry or don't feel like going through my entire makeup process. I have tried dozens of mineral foundations, including expensive ones, but I think this one has the best coverage and longevity.
I am still on the hunt for the perfect eyeliner and blush so if you have a recommendation, I'd love to hear it!
Kisses,
A